National Public Radio recently left Twitter after the platform designated it as "state-affiliated media" before changing it to "government-funded media".
In a similar turn of events, another liberal media outlet, the Canadian Broadcasting Corporation (CBC), has decided to bid farewell to the platform after receiving the same label.
CBC reportedly receives more than two-thirds of its funding from the Canadian government and expressed its disappointment by pausing activities on its corporate and news Twitter accounts.
In a tweet, CBC News Alerts mentioned that the social media platform's latest move to label public broadcasters with such designations has led to this decision.
CBC/Radio-Canada has paused activities on its corporate and news Twitter accounts, after the social media platform put a "government-funded media" label on its @CBC account, in its latest move to stamp public broadcasters with designations. https://t.co/NcndZXiDj5

— CBC News Alerts (@CBCAlerts) April 17, 2023

When the CBC argued that it was only partially funded by the government, Elon Musk amusingly changed the label on the outlet's Twitter account to display "69% Government-funded Media".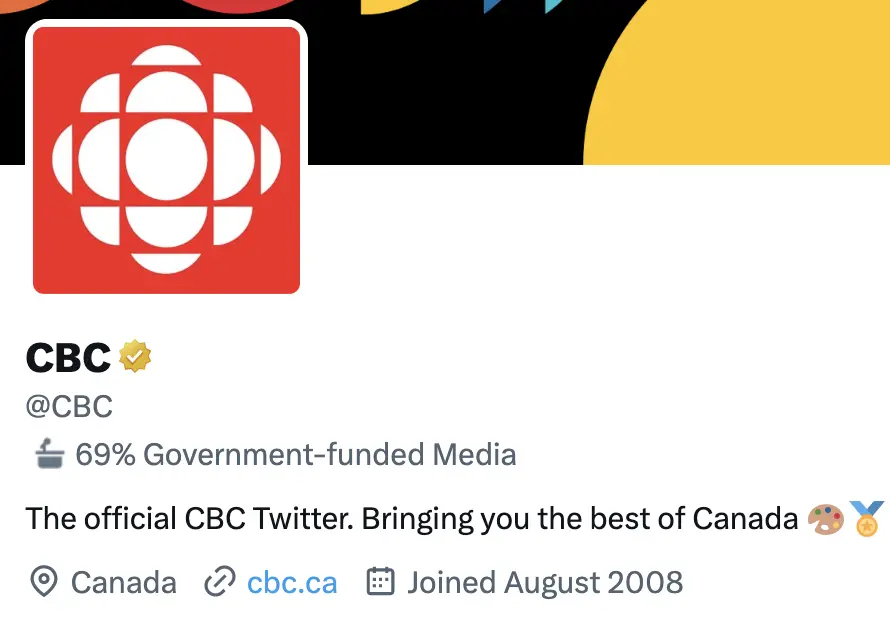 Musk's "Twitter Daily News" clarified the reasoning behind the decision, including data from the CBC's own annual report from 2021-2022, highlighting the considerable funding provided by the Canadian government.
The CBC's 2021-2022 annual report revealed it received almost $1.4 billion (70% of its funding) from the federal government. pic.twitter.com/ZvAQojFoi6

— T(w)itter Daily News  (@TitterDaily) April 17, 2023
Goodbye, CBC!#GoodbyeCBC https://t.co/CIsN4wspUQ pic.twitter.com/N1nZyYLuDU

— Patrick Allan🇨🇦🇺🇸 (@palevell2) April 17, 2023

As the news of CBC's departure from Twitter spreads, the hashtag #GoodByeCBC is starting to trend on the platform, with many users expressing their views on the matter.
"impartial and independent" govt agitprop.
😂😂😂😂😂#CBCBigLie #GoodbyeCBC#DefundCBC
Wonder why they didn't allow comments?🤔 https://t.co/SR4xriBQvD pic.twitter.com/f0YUGzqDbv

— Rotten Black TransPomodoros ❌ (@RottenPomodoros) April 17, 2023