On Monday, Ukraine announced that it had received donated Starlink satellite Internet terminals from SpaceX. However, an Internet security specialist cautioned that they may become Russian targets in the future.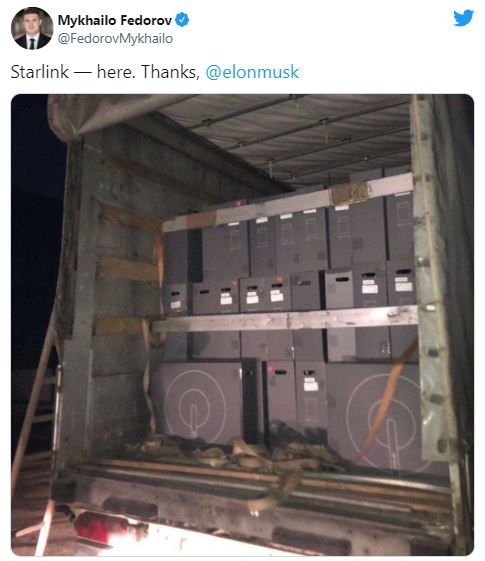 Starlink, please." It was a pleasure working with @elonmusk :)" Ukrainian Vice Prime Minister Mykhailo Fedorov tweeted, after his request for aid from SpaceX CEO Elon Musk. On Twitter, Fedorov shared an image of a military-looking vehicle that seemed to be full of terminals.
As a thank, you, Tesla CEO Elon Musk tweeted, "You are welcome."
They resemble satellite television dishes and can link to a fleet of low-orbit satellites to deliver reasonably fast Internet connectivity by household standards.
According to Citizen Lab's John Scott-Railton, who works as a senior researcher, the terminals might become a Russian target.
Elon Musk's Starlink gift is the subject of this discussion. What a relief! But keep in mind: if #Putin controls the air above #Ukraine, users' uplink broadcasts become beacons… for airstrikes," he tweeted.
You are most welcome

— Elon Musk (@elonmusk) February 28, 2022

Over the course of 15 tweets, he explained that Russia had "decades of expertise hurting individuals by targeting their satellite communications."
Ukraine's Internet has been severely affected by Russia's invasion, therefore SpaceX is delivering additional Starlink terminals to the nation, according to Musk on Saturday.
Thanks to Ukraine's U.S. ambassador, the activation of Starlink in Ukraine was approved quickly. To connect to Starlink, end-user terminals need a clear view of the sky, a satellite communications specialist Tim Farrar has warned.
The antenna must be placed at the top of the tallest structure in the area since high-rise buildings might interfere with service, he added. "It is a risky position to be in."
However, "It is not going to be anything that offers an alternative on a broad scale," he said. A Reuters request for comment from SpaceX was not immediately returned.