Mr. Elon Musk, CEO of Space Exploration Technologies Corporation (SpaceX), has indicated that his organization is ready for hacks and signal jamming.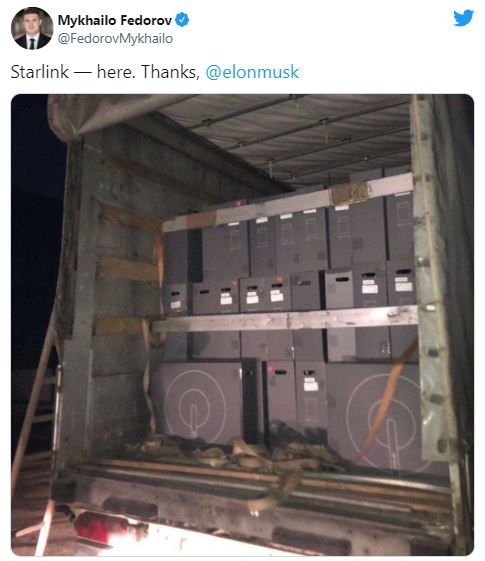 SpaceX's Starlink satellite internet network is used all around the world, and Musk made headlines last week when he said his business would supply Starlink user terminals to Ukraine's war zone in response to a request from the country's deputy prime minister.
The terminals have now arrived in Ukraine, and Starlink is already providing internet access to emergency agencies and those who may need it. According to Musk, governments have asked Starlink to restrict Russian state-sponsored media sites, but the company has rejected them.
According to Musk, Starlink is preparing to counter cyber threats, which will slightly affect second-generation satellite launches and starship launches.
Musk's remarks were made only minutes before on the social media network Twitter when he sent two tweets describing additional safeguards SpaceX is taking in reaction to Ukraine's fast-changing situation.
These will cause a little delay in Starlink's ambitions to launch second-generation satellites and build its STarship launch vehicle system, which has been a source of conflict for numerous competitors.
This comes after some observers questioned if Starlink was putting itself in jeopardy by offering Internet access in Ukraine. According to Musk, the user dishes his business has supplied to Ukraine are susceptible to hackers, owing to the fact that they are the only ones offering connections in certain parts of the nation.
He also stated that the dishes are susceptible to cyberattacks, citing the experience of Starlink's competitor Viasat, which had its equipment "permanently rendered worthless" in the wake of the Russian invasion.
In his second tweet, he said that various nations, including Ukrainian authorities, had requested that Starlink limit access to Russian news outlets.
Despite assisting the Ukrainians in their time of need, Musk has been steadfast in his refusal to follow these orders, noting the restrictions on free expression that they involve.
SpaceX reprioritized to cyber defense & overcoming signal jamming.

Will cause slight delays in Starship & Starlink V2.

— Elon Musk (@elonmusk) March 5, 2022

Musk responded to Twitter users who pointed out that Russian media sites are propaganda by saying that all news sources contain propaganda to some level, with some doing so more than others.
The news comes after Starlink and Musk enraged Russia's space agency leader, Mr. Dimitry Rogozin, with their decision to assist Ukraine.
In a statement to a Russian state-run news agency, Mr. Rogozin expressed his disappointment with Musk and Starlink choosing sides in a fight characterized as the greatest invasion in European history since World War 2.
Musk responded calmly, retorting that possibly unfavorable weather circumstances were to blame for his company's decision to deploy the terminals to Ukraine.



This year, Starlink has increased the frequency of its satellite launches, aiming to launch a new mission every week. So far this year, SpaceX has launched nine rockets while it continues to build the Starship rocket at Boca Chica, Texas, where the Federal Aviation Administration is now conducting an environmental study of its facilities (FAA).