Elon Musk made a stunning announcement earlier this year when he appeared on stage to show something that many consider even more impressive than the Tesla Cybertruck. The CEO unveiled the Tesla Bot and then engaged in a Q&A session with members of his development team before concluding his presentation. Earlier this year, Elon Musk said that SpaceX will be able to put humans on Mars in 10 years.
In August, the corporation seemed to be dipping its toes into the robot ecosystem in order to see whether it could make a dent in the market. It may not be as critical as the advancement of renewable energy technology, but Musk stated that it is on their radar and that they have already begun the recruiting process for the creation of the Tesla Bot. For further information, see Huawei's Aito M5 hybrid automobile, which the company touts as superior to the Tesla Model Y.
Elon Musk remarked, "I believe there are infinite possibilities. A humanoid robot that can interact with its environment and provide assistance in a variety of ways may not be Tesla's core mission directive to speed up the world's transition to sustainable energy, but it is tremendously beneficial for the globe nevertheless. Elon Musk, CEO of Tesla, mocks the metaverse: He stated the following: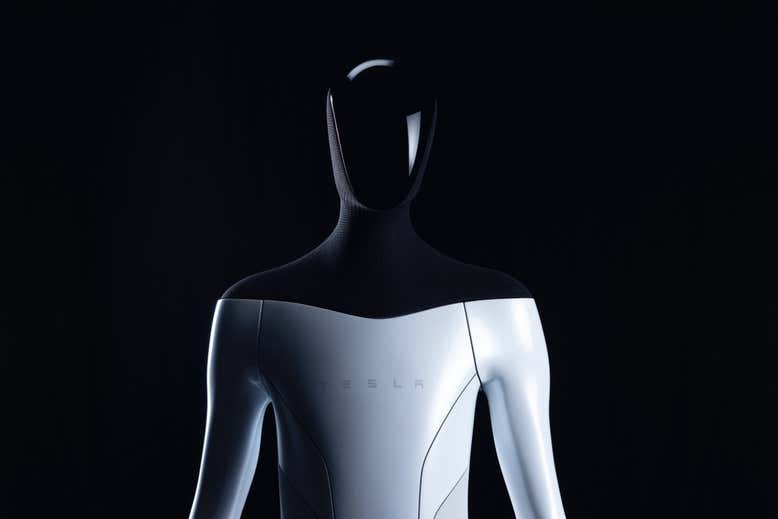 When speaking to Lex Fridman about Tesla's new bot, CEO Elon Musk hinted at its potential to be something more. According to the interview, the company's robot, which appears like something from a science fiction film, might genuinely serve as a friend for human beings. R2D2 and C3Po, two of the most famous Star Wars characters, were mentioned as possible inspirations.
Over time, he suggested, the Tesla Bot "may acquire a distinct personality of its own." Not all robots are created equal. When it comes to a dog, "the personality might change to fit the owner, or whatever you call it."
In rejecting the premise that artificial intelligence (AI) is required to further technological advancements, the business tycoon has made a powerful statement. The majority of what AI accomplishes can be done without it, according to him. When it comes to companionship and individuality, it will be fascinating to watch how something like the Tesla Bot is given the ability without or with very little AI.
In the past, Musk had made a comment in favor of robots that was somewhat outlandish. He said that Tesla was more like a robotics firm than a car manufacturer. According to the firm, its vehicles are robots on wheels because of their usage of self-driving technology.
As he has often said, the Tesla Bot would be designed to alleviate the burden of repetitious activities. During the presentation, he had also brought up the issue of future labour shortages, which Tesla Bot may alleviate.
In 2022, will Tesla and Elon Musk be able to create a humanoid robot?
By 2021, Elon Musk has already promised to show off a working version of Tesla's humanoid robot that would be used to "reduce risky, repetitive, boring activities" and be controlled by voice. Is it possible for the corporation to meet Musk's goal?
There have been several successes for Tesla, including a value of $1 trillion, more than half a million vehicles sold, and more than 2000 charging stations installed across the world. However, there have been setbacks and delays.
A million self-driving cabs, according to Musk, will be on the road by that year. A Tesla lorry is expected for production in 2020, followed by a Cybertruck in 2021. He has long proclaimed the near advent of complete autonomy for his automobiles. They have all been or will soon be missed. Even though he has confessed that he is not always on time, Musk claims that most of his forecasts ultimately come to fruition.
According to Musk's presentation in August, the Optimus robot would be 173 centimeters tall, weigh 57 kilograms, and be able to carry a weight of up to 20 pounds.
There are many similarities between Tesla's self-driving vehicles and humanoids, and this should give humanoid robots the upper hand in the race. For him, Tesla is the "world's most robotic" corporation since its vehicles "resemble semi-sentient robots on wheels," he said. As for a humanoid version of it, "it makes sense to put that on."
Tetsuya Ogata from Waseda University in Tokyo, Japan, feels that if the business did not make such grandiose promises, the robot's engineering must be doing well. However, he expects it will run into hardware difficulties as well as AI ones, as humanoid robots are much more sophisticated than vehicles. Tesla has a lot of expertise with AI challenges.
As he notes, creating robot hands that can do the same things as human ones would be tough. "It is also a huge difficulty how to duplicate senses that allow for tactile feedback."
Although Zhongyu Li from the University of California, Berkeley, admires the goal, he considers the timetable to be "very ambitious". He expects Tesla to meet its goal of presenting a prototype but may face difficulties in delivering the product to the public.
A prototype walking for a few brief demonstrations is not that difficult for its skilled engineers, but getting humanoid robots to consistently work in everyday life is another matter. It will take years to develop trustworthy hardware, a strong control system that prevents the robot from falling, recovers from a fall, and detects and avoids impediments," he adds.
However, some feel that the technology is conceivable, but not in the form that Tesla claims it will be. Robots like Atlas from Boston Dynamics can run and leap, but they also have a hefty body and a backpack-style power pack that makes them difficult to move about. Florian Richter from the University of California, San Diego gestures to the Atlas robot from Boston Dynamics.
A lot of work has to be done." A hardware prototype in a year is certainly doable, but it will probably only have half the power and weight they had hoped for, according to Richter. Other human-level skills, such as grasping, will need years of study and a lot of invention before they can be accomplished, according to the researcher.
A request for an interview with Tesla or Elon Musk was not answered.