It is possible that humans may land on Mars within the next five years at the earliest, SpaceX CEO Elon Musk stated today.
Lex Fridman, a podcaster, invited Tesla CEO Elon Musk to sit down for an interview today. SpaceX CEO Elon Musk took ten seconds to deliberate before responding to a question about when the company expects to make a human landing on Mars.
"Rocket engineering" was one of the factors, Musk said to Friedman. "It is basically designing the car," he stated. I mean, Starship is the most sophisticated and complicated rocket ever built. "It is on another level entirely."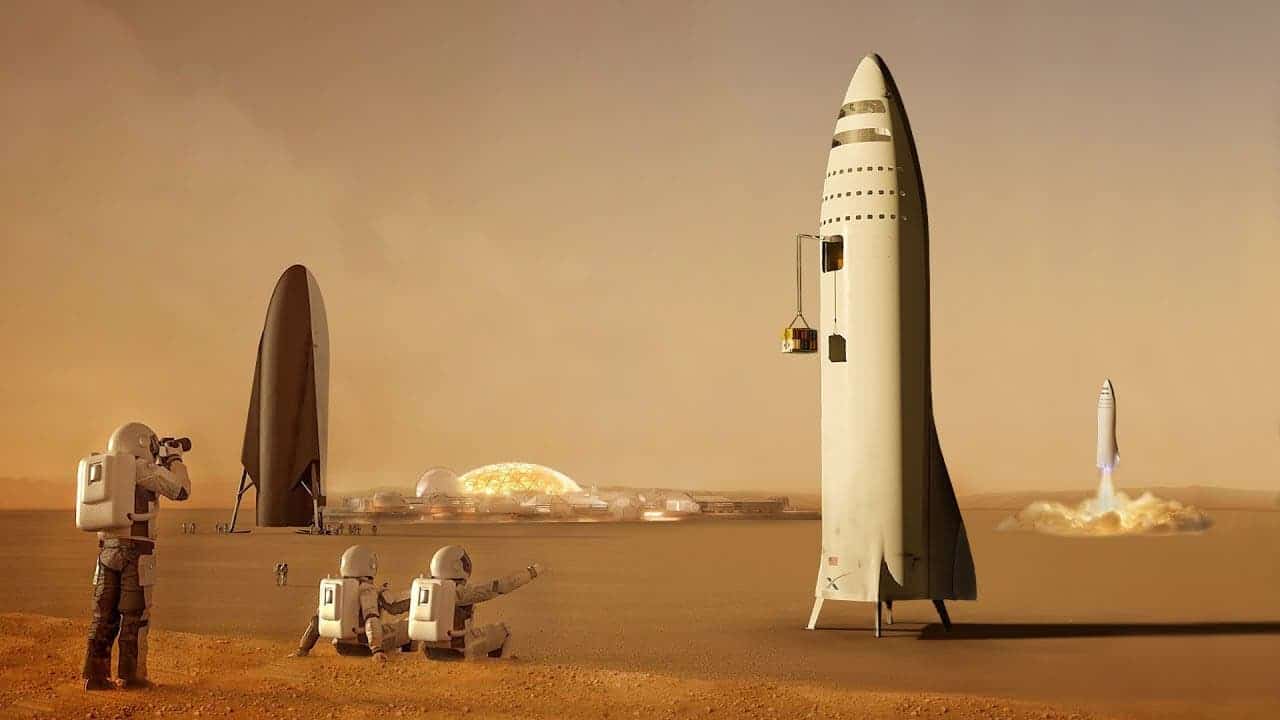 As a result, he said, "the core optimization of Starship is reducing cost per ton in orbit and eventually cost per ton on Mars."
According to SpaceX's website, Musk was referring to the SpaceX Starship, which is "built to take both personnel and cargo to Earth orbit, the Moon, Mars and beyond. We will have "the most powerful launch vehicle ever constructed" in the end. As much as 100 metric tonnes of the payload will be possible."
To Elon Musk, it is always taken five years.
In the past, Musk has proposed a variety of dates for SpaceX's arrival and landing on Mars. In an interview with the audio networking app Clubhouse in February, Musk predicted that SpaceX's manned interplanetary spaceship will arrive on Mars in around "five and a half years."
During a tweet in March, Musk predicted that SpaceX will land an interstellar spaceship on Mars by 2030.
SpaceX will be landing Starships on Mars well before 2030. The really hard threshold is making Mars Base Alpha self-sustaining.

— Elon Musk (@elonmusk) March 23, 2021
In an interview with Time magazine earlier this month, Musk also stated: "I would be astonished if we do not arrive on Mars within five years."
SpaceX's development may not be smooth enough for the final three launch possibilities until 2026, according to some analysts. As a result, the landing on Mars may take longer than expected.
After much deliberation, Musk has decided to construct 1,000 interstellar spaceship rockets. It is time for SpaceX to launch three times a day and bring 1 million people to Mars.
As for the present scenario, the fifth high-altitude test flight of Starship was carried out in May. It will also be the first private lunar expedition when a fly-by mission takes place in 2023. The journey to Mars, on the other hand, is a lot more complex. The expense of a six-month flight to Mars and creating a permanent base on the planet remain the major obstacles, according to Musk.
FAA delays completion of Starship environmental review
The FAA estimates that it will take at least another two months to complete its environmental study of SpaceX's Boca Chica, Texas, facility's orbital flights of the Starship spacecraft.
An environmental review of SpaceX's intentions to launch its Starship/Super Heavy rocket into orbit from its Boca Chica facility, which the company calls Starbase, was not completed by the FAA's planned deadline of December 31 as announced on December 28. Obtaining an FAA launch license for such launches requires the completion of a Programmatic Environmental Assessment (PEA).
In light of the number of comments received on the Draft PEA, discussions, and engagement efforts with consulting parties, the FAA has announced a change to the timeline. FAA currently expects to issue the final PEA on February 28, 2022.
The draught report, issued in September to the public, drew more than 18,000 responses. Agency officials said SpaceX is responding to those public concerns, but they have not given any other specifics regarding the study of the remarks. More than a thousand people attended two public sessions in October about the examination of SpaceX's intentions.
Consultations with different government agencies are part of the environmental evaluation process. The protection of historical monuments and endangered animals are among the topics being discussed, according to the FAA.
An FAA launch license for Starship/Super Heavy orbital launches from Boca Chica will be delayed until the environmental study can be completed. With a launch license granted at the end of 2021, SpaceX CEO Elon Musk predicted that the first orbital launch will take place in January or February 2022.
However, even if the environmental evaluation and licensing processes are completed as originally scheduled, it is unclear if SpaceX would be ready for an orbital launch attempt on that timeframe. The Starship spacecraft and its Super Heavy rocket were supposed to undergo "a lot of testing" in December, according to Musk's announcement in November. However, tests such as static fires have not yet taken place.
A further extension to the current deadline of Feb. 28 is not ruled out. The FAA granted a spaceport license to Spaceport Camden, a planned launch site in Georgia, on Dec. 20 after months of delays in an environmental study of the project.