Mr. Elon Musk, CEO of Space Exploration Technologies Corporation (SpaceX), has announced that their astronautic launch services provider is worth $100 billion in market capitalization. The valuation was initially reported last month, signifying a considerable boost in only a few months after SpaceX closed its current fundraising round, in which the company raised more than a billion dollars.
The company's internet affiliate SpaceX, LLC, which is behind the super tiny satellite constellation broadband provider Starlink, is a major driver of the valuation.
In Response To A Three-Year-Old Tweet, Elon Musk Confirms SpaceX Is Worth More Than $100 Billion.
Musk made his comments on the social media network Twitter, where he responded to a three-year-old Tweet that attacked his firms for getting government subsidies and grants.
According to a 2015 Los Angeles Times report, Musk's electric car business Tesla Inc., SpaceX, and the now-defunct solar energy products supplier SolarCity Corp. got a total of $4.9 billion in government subsidies.
A Twitter user used this story to accuse Musk of allegedly inflating stock prices by exaggerating his firms' manufacturing capability. The CEO replied at the time by stating that the story was "propaganda" prepared to counter the International Monetary Fund's (IMF) investigation that detailed $5 trillion in subsidies granted to fossil fuel firms. He stated that $4.9 billion was a modest portion of Tesla and SpaceX's combined market worth of $80 billion.
The latter remark was made in reaction to the charge that because Musk did not enable government investments to be converted into shares, the government could not acquire a stake in his firms.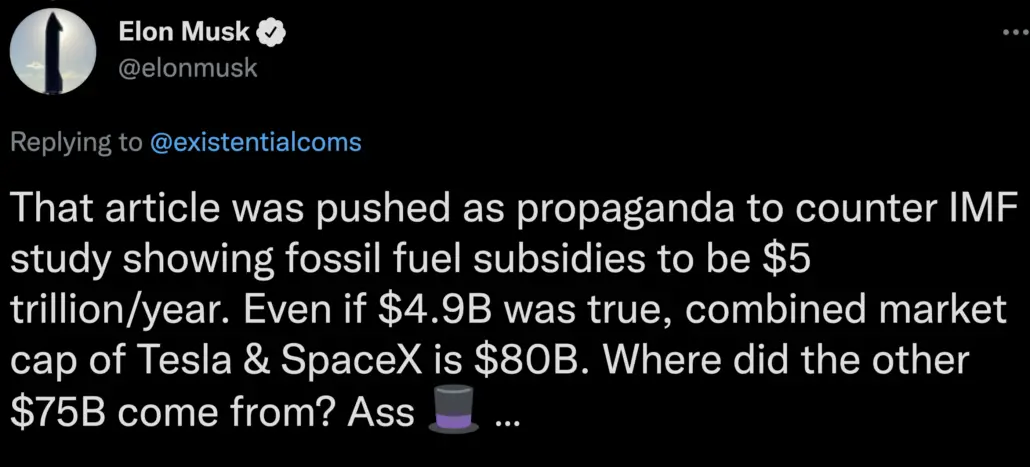 Three years later, the SpaceX CEO replied to the same user, stating that his electric car and space transportation firms now have a combined market worth of $1.2 trillion, with the $4.9 billion in government backing accounting for less than 0.4 percent of that value.
According to him:
The government invested more money in Telsa & SpaceX than you, by far. They have no voting shares because you sell off overinflated stocks to keep the public from having a say in your run your publicly funded companies. Subsidies are a drop in the bucket.https://t.co/DxQOZ4zkFu

— Existential Comics (@existentialcoms) May 11, 2018
Combined Tesla+SpaceX market cap is now over $1.2T, which means "$4.9B" is less than 0.4% of combined company value

— Elon Musk (@elonmusk) November 26, 2021
Looking at his most recent tweet, it is evident that SpaceX is worth at least $100 billion, if not more. Musk revealed this information before the markets reopened on Friday after the Thanksgiving holiday had kept them closed. Tesla's shares were trading at $1,116 at the conclusion of trade on Wednesday, translating to a market value of $1.11 trillion based on the company's one billion shares outstanding.
This suggests that SpaceX is worth more than $100 billion, confirming prior rumors that the company's share price had risen to $560 per share and its value had risen to $100 billion as a result of a secondary share sale.
According to CNBC, the company's value at the time was $44 billion, and investment company Baron Funds stated in its fourth-quarter 2020 quarterly report that it had bought $26 million worth of preferred SpaceX shares.
According to Musk, this has already swelled to more than twice that amount after 15 months. Baron Funds has invested $185 million in SpaceX through its numerous smaller funds as of September 2021, and the company is valued at more than double that amount.
Musk's ownership in SpaceX was revealed in the company's filings with the Federal Communications Commission (FCC) in February 2021, when it raised $1.2 billion. According to an August filing, the CEO owns 43.61 percent of the corporation, which is worth $436 million at a market value of $100 billion.