With the launch of a Falcon 9 booster from California on its 11th journey to space, SpaceX hopes to establish a new record for rocket reuse on Saturday. The booster will be delivering additional Starlink internet satellites into orbit. If all goes according to plan, another Falcon 9 will launch with an all-electric Turkish data relay spacecraft from Florida's Space Coast in approximately 18-and-a-half hours.
The launch double-header will get off at 4:24 a.m. EST (1:24 a.m. PST; 0924 GMT) on Saturday from the Vandenberg Space Force Base in California, launching 52 additional satellites for SpaceX's Starlink internet network into orbit.
SpaceX has a backup launch option for the mission, dubbed Starlink 4-4 in the company's launch plan, at 7:41 a.m. EST (4:41 a.m. EST; 1241 GMT).
According to the Space Force prediction team at the California spaceport, there is a 100 percent probability of favorable weather for a predawn launch Saturday at Vandenberg, with unrestricted vision, north winds of 6 to 9 mph, and a temperature of 40 to 44 degrees Fahrenheit.
As it reaches the speed of sound, the Falcon 9 will circle downrange from Space Launch Complex 4-East, clearing the coastline in a matter of minutes. The Falcon 9's 15-story booster will separate and begin a drop-down to Earth two and a half minutes after launch, re-entering the atmosphere to target a drone ship moored in the Pacific Ocean about 400 miles (650 kilometers) from Vandenberg.
According to a mission timetable given by SpaceX, the upper stage will propel the stack of 52 flat-panel Starlink internet satellites into orbit, putting the payloads for deployment at T+plus 15 minutes, 36 seconds to complete the Starlink 4-4 launch sequence.
At its apogee or the highest point, the mission will aim for an elliptical, or egg-shaped, transfer orbit reaching 212 miles (341 kilometers) above Earth.
The launch will be SpaceX's Starlink internet network's 33rd dedicated mission and the second dedicated Starlink launch from Vandenberg.
In SpaceX's inventory, the rocket allocated to Saturday's launch is named B1051. It will be its 11th voyage to orbit and back since its debut in March 2019 with the launch of SpaceX's Crew Dragon spacecraft from Kennedy Space Center in Florida on an unpiloted test mission.
Since then, the rocket has launched seven of SpaceX's past 32 dedicated Starlink flights, including Canada's Radarsat Constellation Mission, SiriusXM's SXM 7 radio transmission satellite, and Canada's Radarsat Constellation Mission. It launched on May 9 from Cape Canaveral, and a video of its landing on a drone ship is available below.
SpaceX's most-flown rocket has done it again, landing on a drone ship in the Atlantic Ocean after its record-breaking 10th trip to space.

This is the 83rd successful recovery of a Falcon booster since 2015.https://t.co/dndT94Ei7n pic.twitter.com/Njl2xOcG8i

— Spaceflight Now (@SpaceflightNow) May 9, 2021
In SpaceX's fleet of reusable first stages, the rocket has flown the most. Another rocket has completed ten flights, while two more have completed nine launches and landings.
When SpaceX launched the first of their new generation of Falcon 9 rockets, the Block 5, in 2018, officials said that the enhanced boosters could fly ten times before needing extensive maintenance. However, as a result of the flying experience, this has altered.
Elon Musk, SpaceX's creator and CEO, said earlier this year that reusing Falcon 9 rockets seemed to have "no clear limit." In April, he added, "We do want to fly the Falcon 9 booster until we have some type of failure with the Starlink missions, clearly, simply to have it as a life leader."
By launching its own Starlink satellites, which SpaceX manufactures at a plant in Redmond, Washington, SpaceX has extended the life of its launchers.
SpaceX has secured agreements with all of its customers to fly payloads on recycled rockets since flying the first reused Falcon 9 first stage on a flight in 2017. SpaceX has utilized previously flown rockets on 76 of its 134 Falcon 9 and Falcon Heavy launches.
While a launch team at Vandenberg prepares for a Saturday morning launch, a SpaceX team at Cape Canaveral plans to wheel a Falcon 9 rocket out to pad 40 on Friday in preparation for a Saturday night launch with Turkey's Turksat 5B geostationary communications satellite.
The Airbus-built Turksat 5B has a 90-minute launch window that begins at 10:58 p.m. EST on Saturday (0358 GMT Sunday). That flight will employ a reused first stage with the tail number B1067, which will be SpaceX's third launch.
The official launch weather prediction at Cape Canaveral forecasts an 80% likelihood of good circumstances for Saturday night's launch, with cumulus clouds the one minor worry. Partly cloudy skies are forecasted, with southerly breezes of 10 to 15 mph and a high of 69 degrees Fahrenheit.
The two Falcon 9 rockets will launch 18 hours, 34 minutes apart if both launches happen as planned on Saturday. SpaceX's previous record for the quickest turnaround between two Falcon 9 flights, which stands at 44 hours, will be broken.
Throughout the lifespan of the legendary spacecraft, Russia has launched two Soyuz rockets from various launch locations. In 2013 and 2015, Soyuz rockets launched barely two hours apart from the Baikonur Cosmodrome in Kazakhstan and from French Guiana.
The Falcon 9 launch from Vandenberg on Saturday morning will take an unorthodox southeast trajectory from the military launch complex, skirting the Baja California coastline on its approach to orbit.
The 52 satellites will navigate into their functioning orbits at a height of 335 miles (540 kilometers) using krypton-fueled ion thrusters, joining the rest of the Starlink fleet that provides worldwide internet connectivity. SpaceX will have launched 1,944 Starlink spacecraft since May 2019 with the next group of satellites.
According to a spreadsheet kept by Jonathan McDowell, an astronomer and well-known spaceflight tracker, SpaceX now has 1,729 operational Starlink satellites in orbit. There are 1,467 operational satellites, while the remainder is currently maneuvering into their constellation positions or are otherwise functioning but not delivering internet service.
SpaceX does not reveal which of its Starlink satellites is functioning, leaving it to independent specialists like McDowell to collect and spread the information.
According to Jonathan Hofeller, SpaceX's vice president of Starlink and commercial sales, the Starlink network now serves customers in more than 20 nations.
In a panel discussion at Euroconsult's annual World Satellite Business Week event in Paris, he claimed, "We have well over 100,000 members, both on the consumer and business sides." "And we have no intention of slowing down." We are just getting started."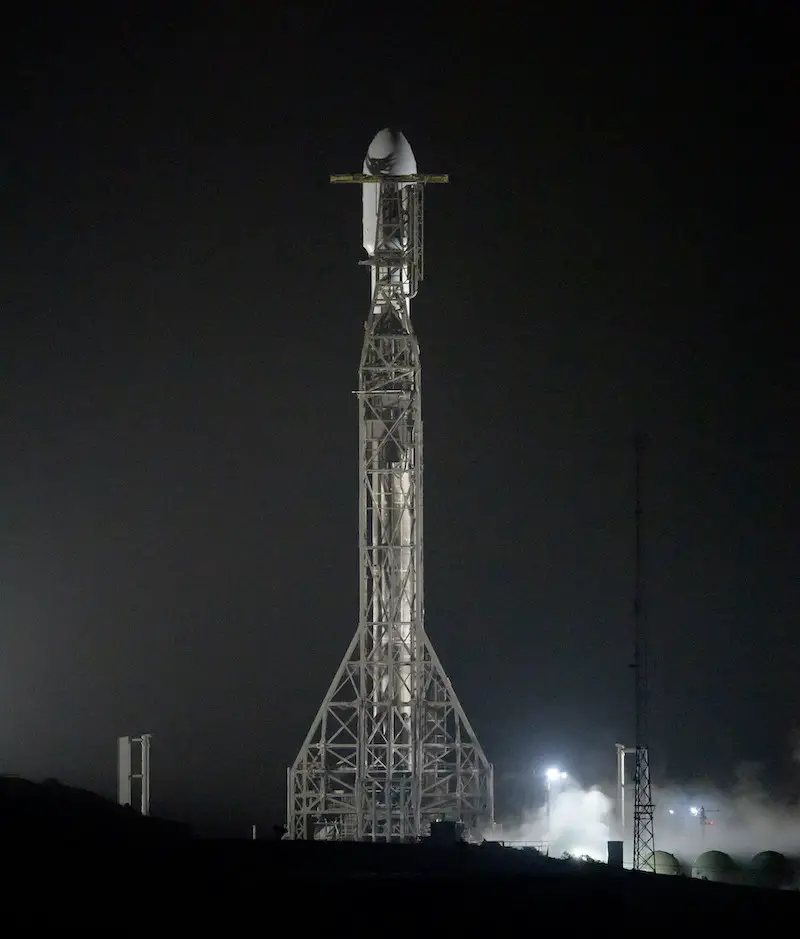 An International Telecommunication Union filing from SpaceX says that the company plans to launch as many as 42,000 Starlink satellites in the long run; this figure is based on what they say about their long-term plans. The first thing the company wants to do is put about 4,400 satellites into five orbital "shells" with different inclinations.
There are five Starlink orbital shells that are all in the same place. They are all between 335 and 348 miles (540 and 560 kilometers), and they have inclinations of 53, 53.2, 70, and 97%. In May, SpaceX finished launching satellites into the 53-degree orbital shell. In September, SpaceX began launching satellites into a 70-degree orbital shell from Vandenberg.
The launch on Saturday will be the third time that the 53.2-degree inclination shell has been targeted. This shell is very close to the 53-degree shell that was filled this year. Launches to 53.2 degrees took off from Cape Canaveral the last two times they went.
Starlink's next launch from Vandenberg was supposed to go into space at a 70-degree angle. In October, SpaceX canceled the mission without giving any reason for why it was canceled. Launched from Vandenberg on Nov. 24, SpaceX sent a NASA asteroid probe into space from its pad. When there was a space in SpaceX's West Coast launch schedule that opened up in mid-December, they changed the target for the launch to a 53.2-degree orbit.
Hofeller said that as soon as January, SpaceX will start putting more satellites into the polar orbital shell. So far, SpaceX has sent a few Starlinks into polar orbit on rideshare missions, but it has not sent the polar shell on its own missions.
There are laser inter-satellite links on all the Starlink satellites that started going up in the second half of this year. This allows the network to pass internet traffic from one satellite to another, not through a ground station.
As of Tuesday, the first-generation shell has been put to use. "We are going to start putting the next-generation shell, which includes inter-satellite links and polar, up in a few weeks," Hofeller said.
"As we speak, we are on cell phone towers, planes, schools, and hospitals," Hofeller said. "We are all over the place." In this case, "there is no reason not to connect."