Investing bank Morgan Stanley believes that Elon Musk will become the world's first modern trillionaire. Due to a wild bull market in Tesla shares over the last two years, the eccentric billionaire's net worth has skyrocketed to unprecedented heights. Since the beginning of the year 2020, the price of Tesla stock has risen by more than tenfold.
According to a Morgan Stanley report, the CEO of Tesla will become a trillionaire as a result of the success of his second business, SpaceX.
The private space-exploration company set up by Musk "is challenging any preconceived notion of what was possible and the time frame possible, in terms of rockets, launch vehicles and supporting infrastructure," wrote Morgan Stanley analyst Adam Jonas in a note titled, 'SpaceX Escape Velocity … Who Can Catch Them?'
According to a previous prediction by the American asset-management firm Ark Invest, Elon Musk will become the world's first trillionaire by 2025. According to Ark Invest Management, Tesla's stock will reach $3,000 by 2025.
Musk's net worth was $241.4 billion at the time of writing, with SpaceX accounting for less than 17 percent of that total. Tesla CEO Elon Musk would have to grow his fortune by more than fourfold in order to achieve the status of trillionaire. In a recent share sale, the firm was valued at $100 billion, putting Musk ahead of billionaire competitors Jeff Bezos and Bernard Arnault in terms of net worth for the first time.
However, that figure is just half of what Morgan Stanley values it at. In his assessment, Jonas estimated that SpaceX would be worth $200 billion in a bull case scenario.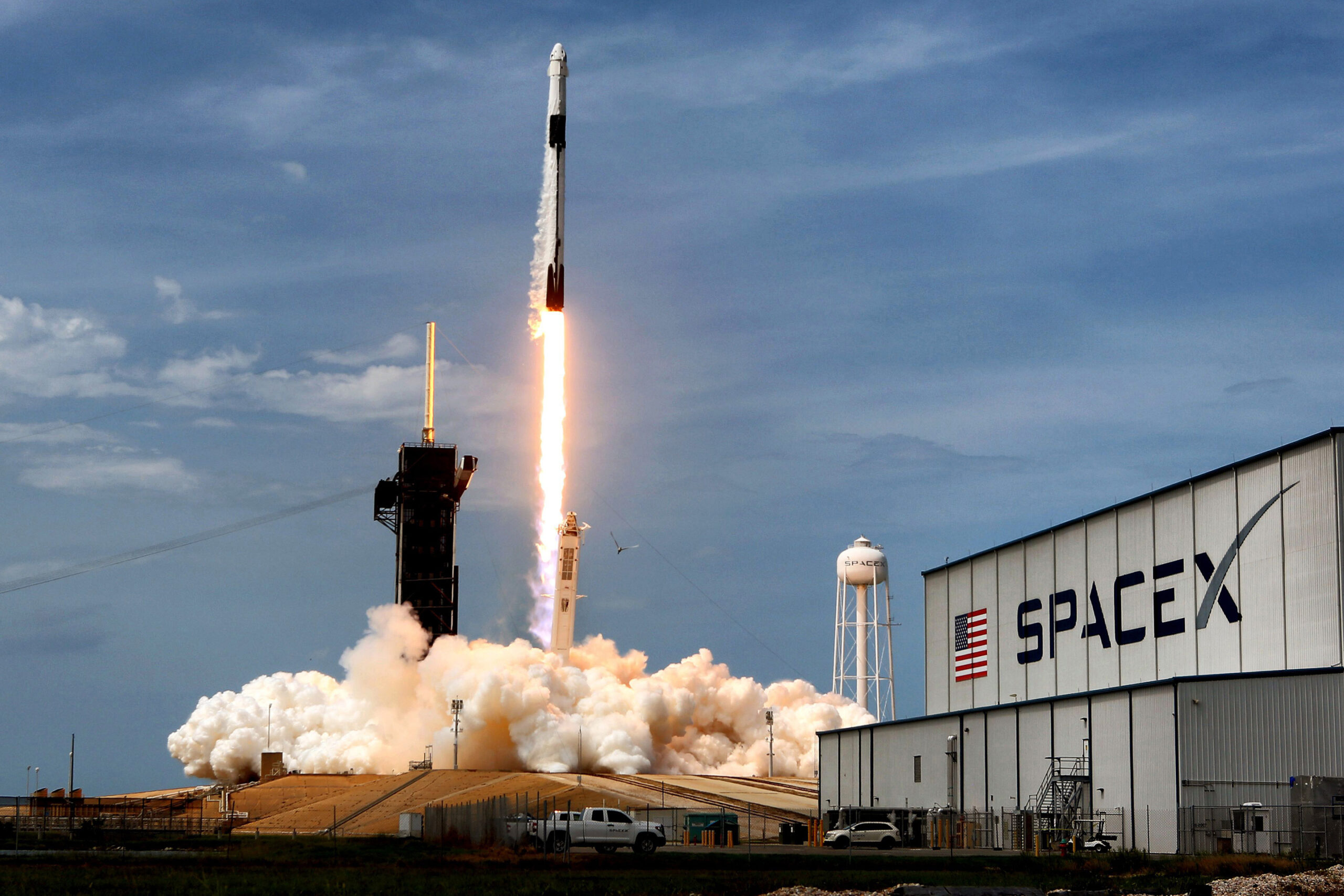 SpaceX's diverse businesses, including space infrastructure, Earth observation, deep-space exploration, satellite broadband and other industries were a key factor in the high valuation.
While SpaceX's future looks bright to analysts, Musk only owns half of the company, according to calculations. Musk has also stated that he has no plans of going public with the company any time soon, stating that an IPO will be on the cards only when the company can correctly predict cash flow. The company had an estimated revenue of $2 billion in 2018, according to Jefferies.
Since then, the company has landed several key contracts, delivered multiple payloads of astronauts and cargo to the International Space Station, and is in the process of unveiling its Starlink satellite broadband sometime next year to wider public.
Cost-efficient moneymaker
Much of SpaceX's business comes from satellite launch services. The company claims to provide affordable launch services, with spots on its Falcon 9 rideshare missions starting at $1 million for satellites weighing up to 200 kilograms, or 440 pounds. The company's rideshare clients include Earth-imaging company Planet Labs Inc., satellite company Loft Orbital Solutions Inc. and telecommunications company Kepler Communications Inc.
Most recently, Torrance-based Varda Space Industries Inc. chose SpaceX to launch its in-space manufacturing vehicle aboard the company's Falcon 9 rocket for a rideshare mission planned in 2023. It will be Varda's first time sending one of its spacecraft into orbit. Financial details of the agreement were not released.
"I'm excited to use SpaceX as our launch provider because their reusable launch vehicles have proven to be highly reliable and cost-efficient," Varda founder and Chief Executive Will Bruey said in an Oct. 11 statement announcing the launch.
While SpaceX has raked in revenue from its satellite and spacecraft ridesharing, the company has also scored millions in dedicated launch contracts from major organizations such as NASA, Space Force and the Defense Department.
SpaceX started in a "small corner" of the aerospace industry by providing launch services when the company was in its early days, Leshner said, but it has made a name for itself by growing in several aspects of aerospace and becoming a trusted contractor for major government entities and companies.
"They got there by having people who built stuff that works," Leshner said.
The long shot
Along with launching satellites into orbit for clients, SpaceX has also bet big on its own satellite constellation, Starlink.
With its network of more than 1,700 satellites in orbit, Starlink provides internet to nearly 100,000 customers. SpaceX has a Starlink order backlog of 600,000 customers and aims to deploy a total of more than 4,400 satellites into orbit for the program by 2024, which could cost up to $30 billion.
The company is working to decrease the manufacturing cost of Starlink terminals as it's reportedly losing money: Each one costs around $1,000 to make but retails for $499.
Despite the steep cost of building out the program, however, the company is expecting to make as much as $30 billion annually once the Starlink constellation is completed.
"If you can get that user terminal cost down, that's really the Holy Grail for the consumer side of the business," SpaceX Chief Financial Officer Bret Johnsen said during a panel at the Satellite 2021 conference on Sept. 7.
And SpaceX is sending more than just satellites into orbit. The company is racing to fulfill its core mission of advancing human spaceflight.
SpaceX made history in September by sending the first all-civilian crew into space on its Inspiration4 mission, a three-day journey around the Earth.
The company has also won competitive, highly valued contracts from NASA to work on the Artemis human lunar lander project, which aims to use the SpaceX Starship to land Americans on the moon for the first time in 50 years. However, a lawsuit filed against NASA by Blue Origin, which claims the contact was awarded unfairly, forced NASA to put the project on hold.
Hitting the mark
Though SpaceX has made major headway in several of its businesses, the company now must deliver on its massive valuation.
But with its recent track record of contracts and launches, Leshner said, the company isn't likely to have its valuation downgraded.
"Succeeding is much more likely than failing if the question is, 'Are they going to live up to it?'" he added.
It isn't easy to predict SpaceX's next move, though, he said. With Musk moving electric vehicle-maker Tesla's headquarters to Austin, Texas, and SpaceX upping its operations at its Starbase launch site in Boca Chica, Texas, it's possible SpaceX might relocate its headquarters out of the California, Leshner said. However, it isn't likely that a move would decrease the manufacturing operations at its current home base in Hawthorne, he added.
"They've got a pretty significant capacity in Southern California for SpaceX's manufacturing," Leshner said. "I wouldn't think that a (headquarters) move would mean some sort of drastic change."
And even though SpaceX's competitors like Rocket Lab USA Inc., Virgin Orbit and Virgin Galactic have made or announced stock market debuts in recent years, Leshner said he doesn't expect SpaceX to follow in their footsteps. With $6.6 billion raised to date, the company doesn't have trouble raising capital, one of the main benefits of going public, he said.
"If you're not dealing with the need to raise capital, why would you introduce the downsides that come along with being public into that equation when you seem to have all upside right now by being private?" asked Leshner.
Though predicting the future of SpaceX is not an easy task, Leshner said the company is far from done dominating aerospace.
"Their investors are willing to say that they believe that the story for SpaceX's growth isn't over," he said.