Honda, a Japanese automobile manufacturer, is developing a partially reusable launch vehicle for small satellites, with a demonstration flight scheduled for 2030.
The proposal was announced on September 30 by the firm, which said that its key automobile technology for combustion, fluid, remote control, and navigation will be applied to the rocket.
This is part of Honda's Vision 2030, which also includes plans to extend the company's commercial portfolio into areas such as flying vehicles, also known as electric vertical take-off and landing (eVTOL) planes, multi-fingered avatar robots, and energy generation on the lunar surface. A result of this multifaceted approach there may be an increase in the number of linked devices — anything from automobiles to appliances to utilities that are connected to the internet — as well as the creation of new services and income possibilities on the Earth and in outer space.
"Technologies for rocket combustion and control and lower costs are already in the hands of automakers. We will just change the field where the technologies are applied," said Honda CEO Toshihiro Mibe, according to Nikkei Asia.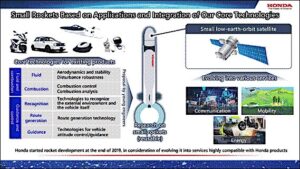 Honda has said that it would begin work on the technical requirements for a reusable rocket in late 2019. According to a statement released by Honda on Sept. 30, "This rocket development was started by a suggestion made by young Honda engineers who wished to create a tiny rocket by using core technology."
Japan's largest carmaker said it will invest 5 trillion yen ($45 billion) on research and development over the next six years, but it did not say how much of that money would be spent on rocket development. While the exact specs of the rocket are still being kept under wraps, Nikkei Asia claimed that it would utilize liquid fuel and be capable of transporting satellites weighing less than one ton to low Earth orbit.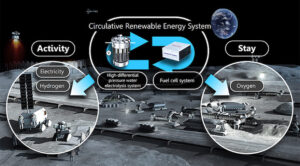 It was announced by Honda that avatar robots would be equipped with a multi-fingered hand with the capacity to both gently pick up a tiny item with the fingers and exert sufficient force in order to open an extremely tight jar lid, on par with a human hand. Honda claims that the robot will be used mainly as a distant surrogate to execute duties, such as attending to an injured person under the direction of a paramedic. However, it did not rule out the potential that it might be employed in space missions in future. In the company's estimation, the robot will start performing technological demos by March 2024 and will be put to "real usage" by the mid-2020s.
JAXA and Honda are working together on a feasibility study for a "circulative renewable energy system" in space, which would provide oxygen, hydrogen, and power to crewed lunar orbiters and rovers. The research will be completed by the end of this year. In conjunction with Honda's fuel-cell technologies and water electrolysis capabilities, they are investigating the potential of separating lunar water into its constituent hydrogen and oxygen components.